Categories
Party mix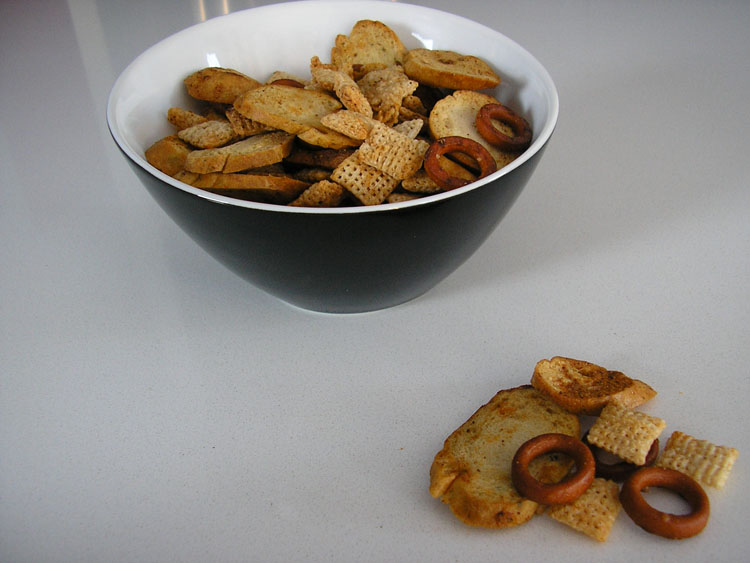 Yield
Number of servings: 20
Serving size: 1/2 cup (125 ml)
Ingredients
66 Glutino stick Pretzels (60 g)
4 cups (1000 ml) Rice Chex
5 focaccia bread from Cambrooke foods (2112) thinly sliced
¼ cup (60 ml) margarine
Seasonings (choose one of the 4 combinations)
1 Tbsp (15 ml) honey
1 Tbsp (15 ml) Dijon mustard
OR
1 Tbsp (15 ml) taco seasoning
OR
1 Tbps (15 ml) Alfredo seasonings from Cambrooke foods (2802)
OR
2 tsp (10 ml) Red Hot Sauce
1 tps (5 ml) garlic powder
1 tsp (5 ml) onion powder
Preparation
Slice the focaccia bread into thin slices. Place on a baking sheet and bake the oven at 350 F for about 15 minutes. Turn halfway through cooking.
In a large microwavable bowl, mix cereals, pretzels and bread slices.
In a small bowl, place the margarine and selected seasonings. Melt in microwave for about 40 seconds.
Pour melted margarine over cereal mix. Mix well.
Cook for 5-6 minutes in the microwave at high intensity. Stir every 2 minutes.
Cool and store in an airtight container.
Nutritional facts
Energy

86 kcal

Protein

0.5 g

PHE

18 mg

TYR

20 mg

LEU

34 mg

VAL

27 mg

ILE

22 mg

MET

10 mg

LYS

20 mg
Energy

1710 kcal

Protein

10.1 g

PHE

370 mg

TYR

403 mg

LEU

683 mg

VAL

535 mg

ILE

431 mg

MET

209 mg

LYS

405 mg
© Genevieve Lafrance 2023