Categories
''Ricotta''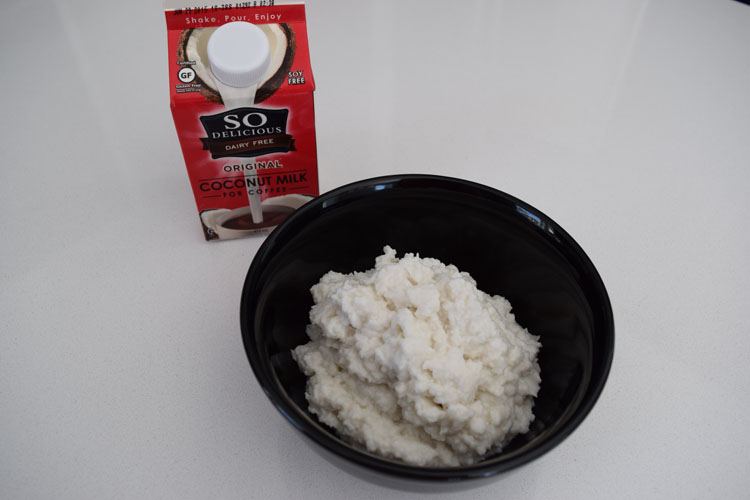 Yield
Number of servings: 4
Serving size: 1/2 cup (125 ml)
Ingredients
2 Cups (500 ml) So Delicious Coconut Milk Creamer (Original)
½ Tbsp (7,5 ml) Lemon Juice
1 Tbsp (15 ml) Olive Oil
Pinch of Salt
2 Tbsp (30 ml) Agar Flakes (or 1½ tsp (7,5 ml) agar powder)
Preparation
In a medium-sized saucepan, mix together all of the ingredients above. Very slowly bring mixture to a boil, stirring occasionally.
Reduce heat to low and allow to simmer 5 minutes or until agar is dissolved. Stir occasionally.
Remove from heat and cool 10 minutes. Then, transfer to a sealed container and place in fridge until set, a few hours.
Transfer mixture to a food processor and pulse until you get the desired consistency.
Note : You can use your Preferred Milk Alternative to make this recipe. Keep in mind your ricotta will have the same taste as your milk. You will then have to add the protein content of your milk substitute to your calculation.
Recipe from cassidycraveablecreations.com
Nutritional facts
Energy

71 kcal

Protein

0.3 g

PHE

13 mg

TYR

8 mg

LEU

18 mg

VAL

13 mg

ILE

8 mg

MET

8 mg

LYS

8 mg
Energy

285 kcal

Protein

1.1 g

PHE

52 mg

TYR

31 mg

LEU

73 mg

VAL

53 mg

ILE

34 mg

MET

33 mg

LYS

34 mg
© Genevieve Lafrance 2023