Categories
Vegetable skewers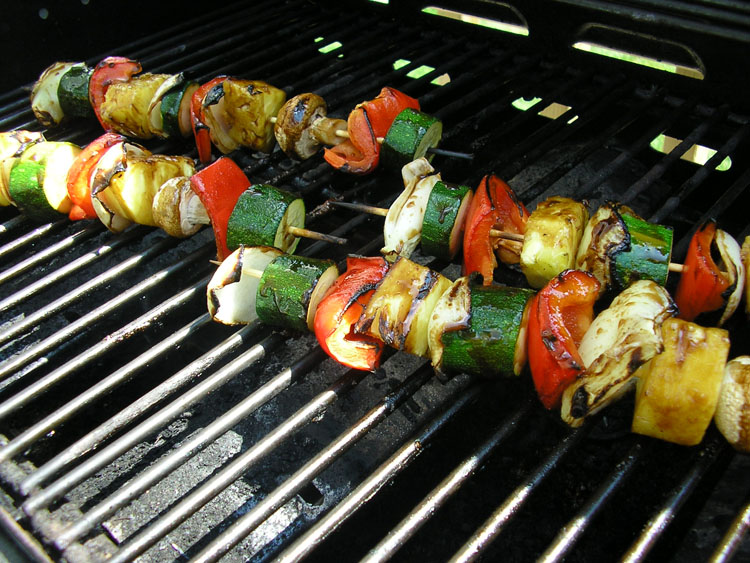 Yield
Number of servings: 4
Serving size: 1 skewer
Ingredients
2 small onions (200 g)
1 zucchini squash (200 g)
1 red bell pepper (200 g)
8 pineapple pieces (180 g)
4 small white mushroom (60 g)
Marinade
2 Tbsp (30 ml) balsamic vinegar
¼ tsp (1 ml) salt
1 garlic clove
1 Tbsp (15 ml) Dijon mustard
2 Tbsp (30 ml) brown sugar
2 Tbsp (30 ml) olive oil
Preparation
In a small bowl, mix together the ingredients for the marinade. Keep aside.
Cut the vegetables into pieces (multiple of 4 for identical skewers).
Form skewers and grill on the BBQ. After 5 minutes, start brushing the skewers with the marinade. Grill for about 5 more minutes.
Serve with a salad, rice or pasta.
Nutritional facts
Energy

66 kcal

Protein

2.2 g

PHE

81 mg

TYR

42 mg

LEU

95 mg

VAL

98 mg

ILE

60 mg

MET

26 mg

LYS

96 mg
Energy

263 kcal

Protein

8.8 g

PHE

323 mg

TYR

167 mg

LEU

379 mg

VAL

392 mg

ILE

238 mg

MET

106 mg

LYS

383 mg
© Genevieve Lafrance 2022