Categories
Banana bread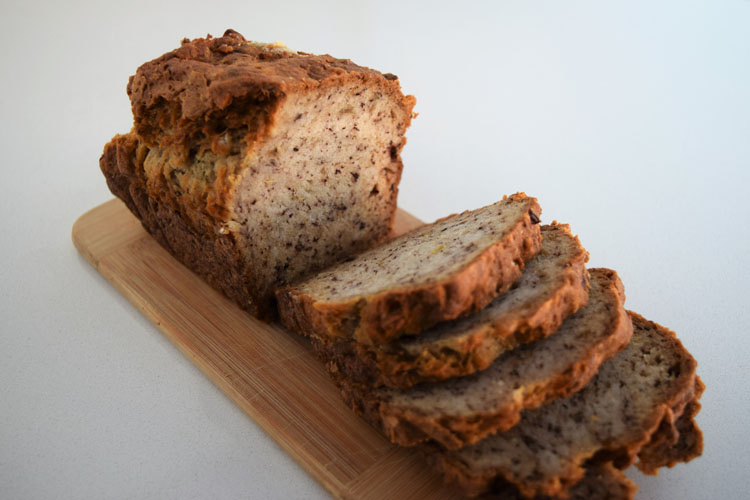 Yield
Number of servings: 12
Serving size: 1 slice (1/12 of the recipe)
Ingredients
400 g All purpose Cambrooke baking mix Cambrooke (2301)
2 tsp (10 ml) baking powder
1 tsp (5 ml) baking soda
3 crushed bananas (200 g or 1 ¼ cup)
¼ cup (60 ml) sugar
3 Tbsp (45 ml) Aquafaba
¼ cup (60 ml) canola oil
1 tsp (5 ml) vanilla
2 Tbsp (30 ml) water
1 Tbsp (15 ml) vinegar
Preparation
Preheat oven to 350F (180 C). Place the grill in the center of the oven. Line a loaf pan with parchment paper.
In a bowl, mix together all dry ingredients. Set aside.
In another bowl, mix together the bananas, aquafaba, oil, vanilla and water.
Place the wet ingredients in the dry ingredients. Mix just to incorporate the flour. Add the vinegar and mix gently.
Put the preparation in the bread pan and bake for 45-55 minutes, until a toothpick comes out clean.
Can also make mini muffins! Portion into mini muffin cups and bake for 12-15 minutes.
Nutritional facts
Energy

210 kcal

Protein

0.4 g

PHE

11 mg

TYR

3 mg

LEU

15 mg

VAL

11 mg

ILE

6 mg

MET

2 mg

LYS

12 mg
Energy

2521 kcal

Protein

4.3 g

PHE

129 mg

TYR

36 mg

LEU

179 mg

VAL

132 mg

ILE

78 mg

MET

22 mg

LYS

139 mg
© Genevieve Lafrance 2022