Categories
Creton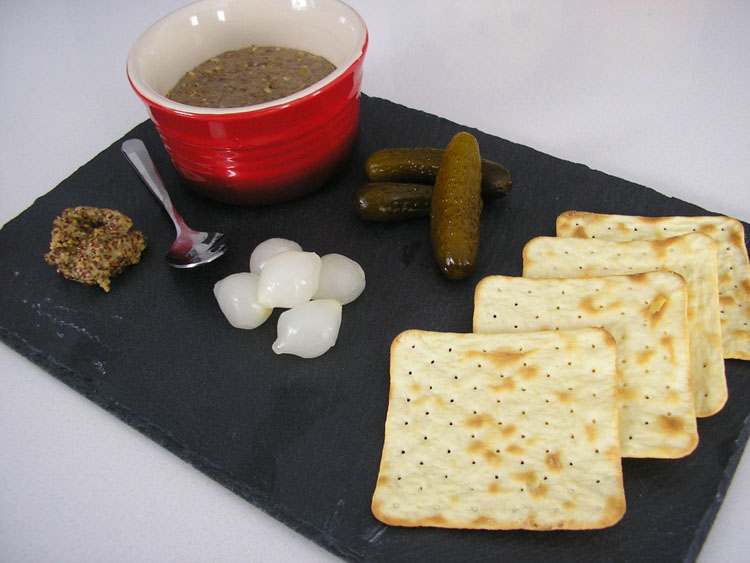 Yield
Number of servings: 4
Serving size: 2 Tbsp (30 ml)
Ingredients
1 tsp (5 ml) olive oil
60 g mushrooms (2-3 average size)
20 g onion (¼ of a medium size)
½ clove of garlic
2 Tbsp (30 ml) plain rice drink
¼ cup (60 ml) water
2 Loprofin crackers from Nutricia reduced to crumbs (1107)
A pinch of creton seasoning or ground cloves
Salt and pepper
Preparation
In a food processor, pulse mushrooms, onion and garlic to obtain small pieces.
In a small saucepan over medium heat, cook the vegetables in olive oil.
When the onion is translucent, add the remaining ingredients. Mix well. Cook over low heat for about 5 minutes.
Pour the mixture into a small ramekin and cool completely in the refrigerator.
Serve with crackers or bread.
Nutritional facts
Energy

33 kcal

Protein

0.6 g

PHE

16 mg

TYR

8 mg

LEU

22 mg

VAL

37 mg

ILE

13 mg

MET

6 mg

LYS

19 mg
Energy

133 kcal

Protein

2.2 g

PHE

62 mg

TYR

33 mg

LEU

86 mg

VAL

149 mg

ILE

52 mg

MET

22 mg

LYS

76 mg
© Genevieve Lafrance 2020