Categories
Pumpkin french toast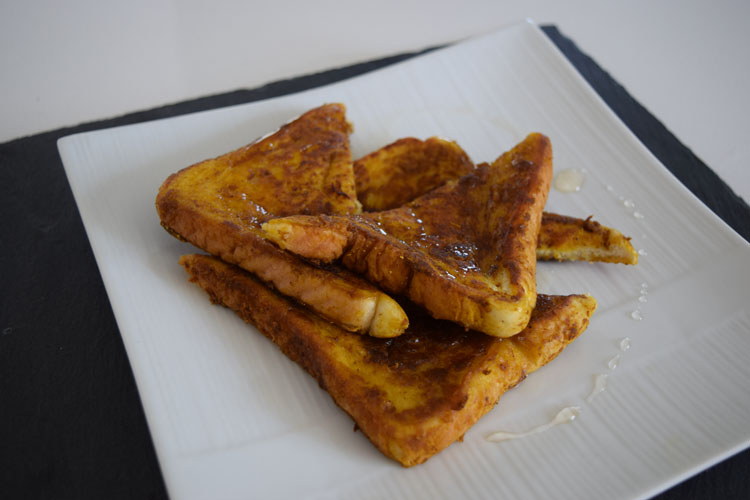 Yield
Number of servings: 2
Serving size: 1 french toast
Ingredients
2 slices Homestyle bread (2110)
¼ cup (60 ml) pumpkin puree
¼ cup (60 ml) vanilla almond milk
1 pinch of pumpkin pie spices (see below)
1 tsp (5 ml) butter
Preparation
Preheat a pan.
Mix the pumpkin, almond milk and the spices together.
Dip the bread in the mix on both sides.
Cook until it's brown. Flip and cook on the other side.
Serve with maple syrup!
Tip : We could replace the pumpkin puree with applesauce, or banana puree and change the spices.
Pumpkin pie spice - (2 tsp)
1 tsp (5 ml) cinnamon

¼ tsp(1 ml) nutmeg
¼ tsp(1 ml) ginger
1/8 tsp (1 pinch) clove
1/8 tsp (1 pinch) Allspice
Mix together all the spices. Keep in the pantry.
Nutritional facts
Energy

162 kcal

Protein

0.6 g

PHE

24 mg

TYR

22 mg

LEU

36 mg

VAL

27 mg

ILE

22 mg

MET

6 mg

LYS

29 mg
Energy

324 kcal

Protein

1.2 g

PHE

49 mg

TYR

43 mg

LEU

71 mg

VAL

54 mg

ILE

43 mg

MET

13 mg

LYS

58 mg
© Genevieve Lafrance 2020