Categories
Porridge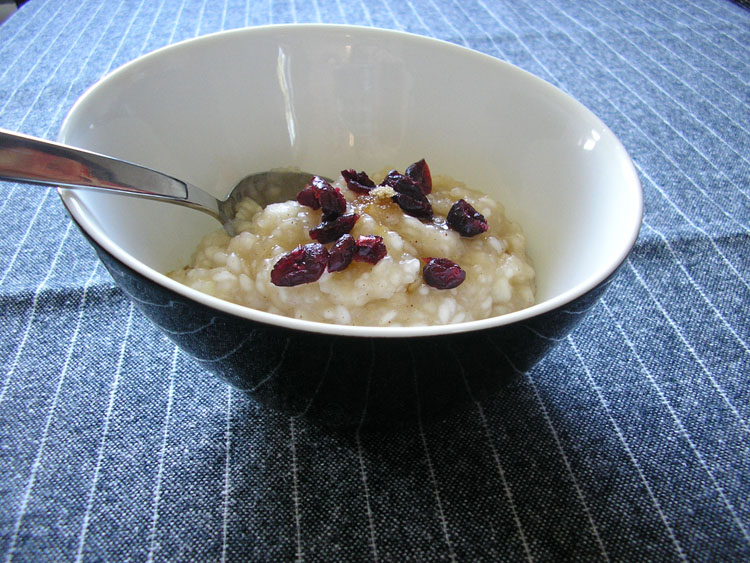 Yield
Number of servings: 1
Serving size: 1 1/2 cup (375 ml)
Ingredients
1 Tbsp (15 ml) butter
1/3 cup (75 ml) diced apple
1 pinch of cinnamon
50 g short grain rice from Cambrooke foods (2407)
1 ½ cup (375 ml) hot water
½ cup (125 ml) unsweetened flax milk
1 Tbsp (15 ml) brown sugar
1 Tbsp (15 ml) dried cranberries
Preparation
Using a coffee grinder, coarsely grind the rice grains. This step is optional.
Place rice and water in a saucepan and bring to a boil. Reduce the intensity of heat to maintain boiling. Stir for about 10 minutes or until rice is tender.
Add chopped apple, brown sugar, margarine, salt, cinnamon, flax milk and cook, stirring frequently, until the preparation has a porridge consistency.
When serving, garnish with dried cranberries and additional brown sugar if desired.
Nutritional facts
Energy

355 kcal

Protein

0.5 g

PHE

23 mg

TYR

16 mg

LEU

43 mg

VAL

30 mg

ILE

22 mg

MET

9 mg

LYS

27 mg
Energy

355 kcal

Protein

0.5 g

PHE

23 mg

TYR

16 mg

LEU

43 mg

VAL

30 mg

ILE

22 mg

MET

9 mg

LYS

27 mg
© Genevieve Lafrance 2020