Categories
Carrot muffins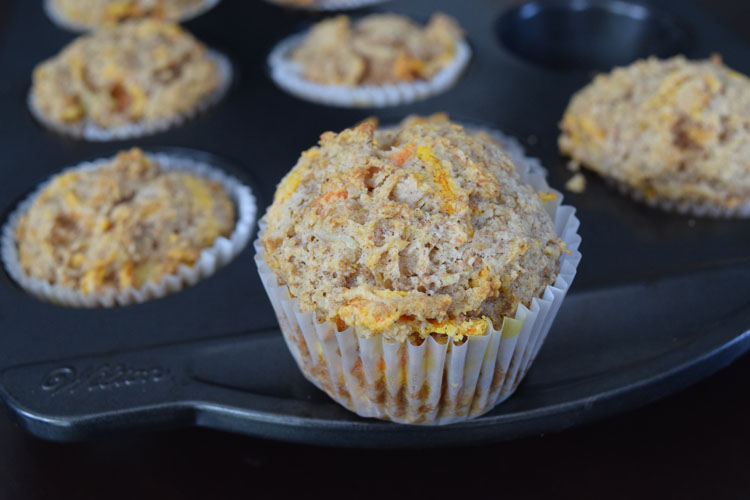 Yield
Number of servings: 12
Serving size: 1 muffin
Ingredients
40 g All-bran buds
½ cup (125 ml) hot water
220 g of wheat starch (about 1 ¾ cups or 425 mL) (0454 or 2203)
20 g cake flour
2 Tbsp (30 ml) original coarse unflavored Metamucil
50 g Jello instant vanilla pudding mix
3 Tbsp (45 ml) sugar
2 tsp (10 ml) baking powder
1 tsp (5 ml) sodium bicarbonate
1 tsp (5 ml) cinnamon
1 cup (250 ml) shredded carrots
½ cup (125 ml) melted butter
6 Tbsp (90 ml) crushed pineapple (without juice)
6 Tbsp (90 ml) water
Preparation
Preheat oven to 400F.
In a small bowl, mix together the All-Bran buds and hot water. Set aside until the cereals absorb all the water.
In another bowl, mix together the dry ingredients. Add the shredded carrots.
In another bowl, mix together the wet ingredients (except vinegar). Add the cereal mix. Mix well.
Add the wet ingredients to the dry ingredients. Stir only to moisten dry ingredients. Do not overmix.
Add vinegar. Mix gently. You'll hear the bubbles! This is to help give volume to the final product. The muffin will not taste like vinegar!
Spoon into 12 muffin cups coated with a paper mold.
Bake for 18 to 20 minutes.
Note : Freezes well. Simply thaw at room temperature or in the microwave oven for 30-45 seconds.
Nutritional facts
Energy

186 kcal

Protein

0.7 g

PHE

36 mg

TYR

26 mg

LEU

58 mg

VAL

42 mg

ILE

34 mg

MET

14 mg

LYS

40 mg
Energy

2234 kcal

Protein

8.3 g

PHE

435 mg

TYR

316 mg

LEU

702 mg

VAL

499 mg

ILE

407 mg

MET

172 mg

LYS

485 mg
© Genevieve Lafrance 2020