Cranberry and white chocolate scone
Categories
Cranberry and white chocolate scone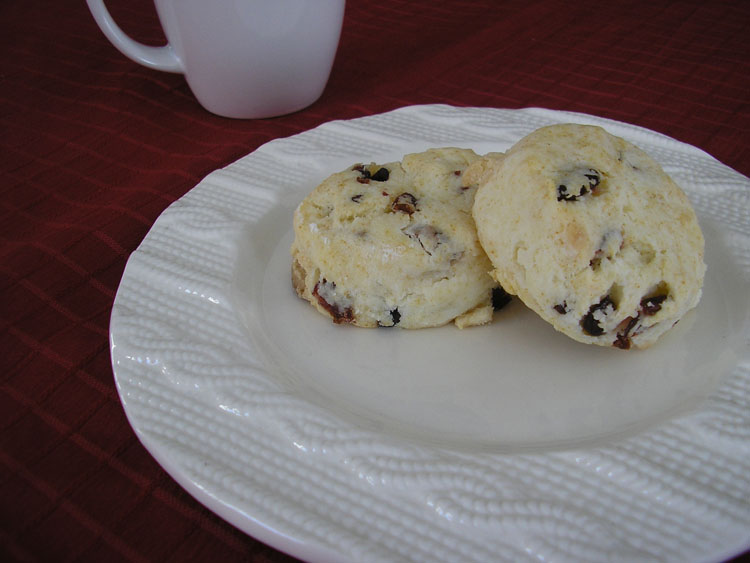 Yield
Number of servings: 12
Serving size: 1 scone
Ingredients
260 g Wel-Plan baking mix from Nutricia (1123)
2 ½ tsp (12.5 ml) baking powder
½ tsp salt
6 Tbsp (90 ml) cold butter
½ cup (125 ml) cold original rice milk
¼ cup (60 ml) whipping cream (35%)
60 g (1 square) white chocolate Plymouth Pantry (0918)
¼ cup (60 ml) dried cranberries
Preparation
Preheat oven to 450 F.
In the food processor, place the baking mix, baking powder and salt. Pulse to mix. Add the butter and pulse a few times to get pieces of butter the size of a pea.
Pour into a large bowl. Add the chocolate and cranberries and mix. Add the rice drink and cream. Mix well.
On a starched work surface, roll the scone mix. Roll the dough to about 1.5 cm thick. Cut with a round cookie cutter. Make sure to get 12 scones.
Place on a baking sheet lined with parchment paper.
Cook for 20 minutes.
Inspired by a recipe from The Cook for love
Nutritional facts
Energy

178 kcal

Protein

0.2 g

PHE

11 mg

TYR

11 mg

LEU

22 mg

VAL

14 mg

ILE

12 mg

MET

4 mg

LYS

16 mg
Energy

2138 kcal

Protein

3 g

PHE

135 mg

TYR

129 mg

LEU

259 mg

VAL

171 mg

ILE

147 mg

MET

52 mg

LYS

192 mg
© Genevieve Lafrance 2020