Categories
Gingerbread men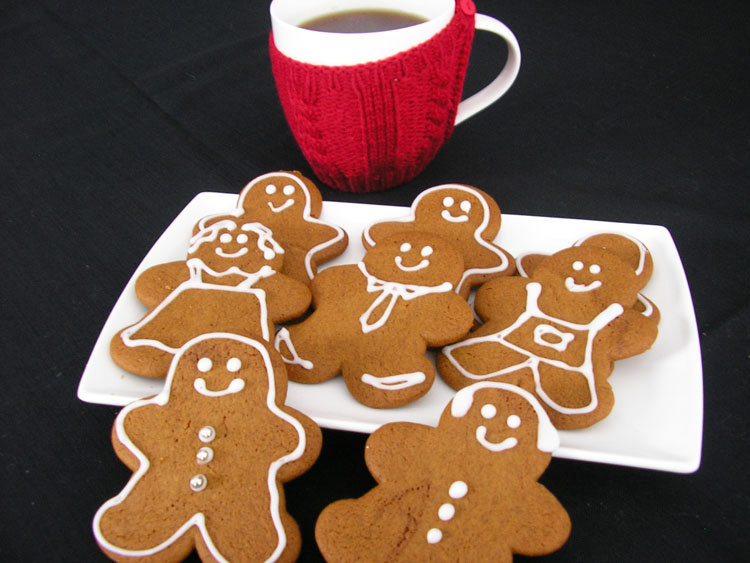 Yield
Number of servings: 24
Serving size: 1 cookie
Ingredients
Cookie dough
2 ¾ cups (675ml) WelPlan baking mix (1123)
1 Tbsp (15 ml) Metamucil
50 g Jello vanilla instant pudding mix
2 Tbsp (30 ml) ground ginger
2 tsp (10 ml) ground cinnamon
½ tsp (2.5 ml) ground cloves
2 tsp (10 ml) sodium bicarbonate
1 pinch of salt
½ cup (125 ml) butter, at room temperature
¼ cup (60 ml) brown sugar
¾ cup (175 ml) molasses
Frosting
¾ cup (175 ml) icing sugar
1 Tbsp (15 ml) water
Preparation
In a medium bowl, mix together the dry ingredients. Set aside.
In a large bowl, cream the butter. Add brown sugar and mix well. Add molasses and mix again.
In the butter mixture, add all the dry ingredients and mix well.
The dough should hold together.
Roll the dough and wrap it with plastic wrap. Refrigerate for about 30 minutes.
Preheat oven to 350 F.
Work using ¼ of the dough at a time. Roll out the dough and cut with cookie cutter. Placed on a baking sheet.
Bake for 8-12 minutes.
The cookies will not look cooked out of the oven. Let stand a few minutes before removing from baking sheet.
Cool completely before decorating with icing (mix the two ingredients together).
Note: Since the butter heats when working the dough, cookies tend to swell slightly during cooking. If you want the cookies to keep their original shape during cooking, you can refrigerate the cookies again once shaped (about 30 minutes) and place them in the oven when chilled.
Nutritional facts
Energy

130 kcal

Protein

0.1 g

PHE

4 mg

TYR

4 mg

LEU

8 mg

VAL

6 mg

ILE

5 mg

MET

2 mg

LYS

5 mg
Energy

3122 kcal

Protein

3 g

PHE

103 mg

TYR

90 mg

LEU

204 mg

VAL

140 mg

ILE

114 mg

MET

39 mg

LYS

129 mg
© Genevieve Lafrance 2022