BBQ pulled «pork» sandwich
Categories
BBQ pulled «pork» sandwich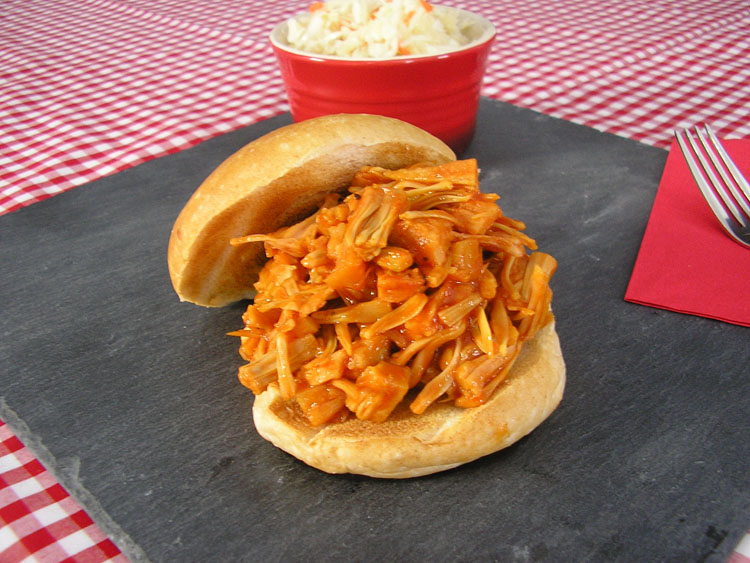 Yield
Number of servings: 4
Serving size: 1/2 cup (125 ml)
Ingredients
1 can (20 oz) Jackfruit green in brine (not in syrup!)
½ cup (125 ml) BBQ sauce (Diana chicken & ribs)
1/3 cup (75 ml) water

Preparation
Drain canned jackfruit. Rinse well and drain jackfruits.
Shred the jackfruit and chop parts that seem a little harder. Place in a sauce pan. Add BBQ sauce and water. Bring to boil. Simmer for 30 minutes.
For best results, refrigerate overnight, so jackfruits absorb all the flavors.
Serve on bread of your choice.
Suggestion : garnish your sandwich with avocado or coleslaw.
Nutritional facts
Energy

53 kcal

Protein

1.3 g

PHE

35 mg

TYR

21 mg

LEU

46 mg

VAL

42 mg

ILE

35 mg

MET

11 mg

LYS

40 mg
Energy

213 kcal

Protein

5.3 g

PHE

140 mg

TYR

85 mg

LEU

183 mg

VAL

170 mg

ILE

140 mg

MET

43 mg

LYS

162 mg
© Genevieve Lafrance 2023