Zoodles and alfredo sauce
Categories
Zoodles and alfredo sauce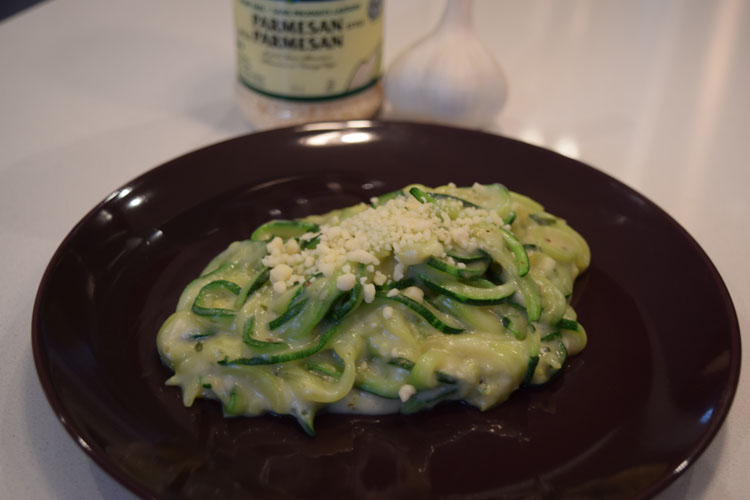 Yield
Number of servings: 2
Serving size: 1/2 recipe (around 1 cup - 250 ml)
Ingredients
1 Tbsp (15ml) butter
1 clove of garlic
15 g (25 ml) Welplan Baking mix (1123)
1 cup (250 ml) unsweetened almond milk
2 Tbsp (15 ml) whipping cream
3 Tbsp (45 ml) Earth Island/Follow your heart Parmesan
Salt and pepper
1 Tbsp (15 ml) oil
2 medium zucchinis (300 g)
Preparation
In a medium pot, melt the butter. Add garlic and sauté for about 30 seconds.
Add the Welplan baking mix and whisk. Gradually add almond milk and cream while whisking. Over medium heat, heat to boiling point, while whisking constantly.
When the sauce has thickened, add Parmesan cheese and mix well.
Adjust the seasoning with salt and pepper. Set aside.
Using a spiralizer, make "noodles" with zucchinis.
In a skillet, heat the oil over medium heat. Add the zucchinis in spirals. Cook for a few minutes.
When they are cooked, add the reserved sauce. Mix well.
Serve and sprinkle with additional parmesan if desired.
Note : The sauce alone contains 425 kcal, 2,5 g protéines, 121 mg phe, 77 mg tyr et 186 mg leu.
Nutritional facts
Energy

242 kcal

Protein

3.6 g

PHE

104 mg

TYR

72 mg

LEU

167 mg

VAL

118 mg

ILE

98 mg

MET

36 mg

LYS

116 mg
Energy

485 kcal

Protein

7.1 g

PHE

209 mg

TYR

145 mg

LEU

334 mg

VAL

237 mg

ILE

195 mg

MET

71 mg

LYS

233 mg
© Genevieve Lafrance 2022