Categories
Fajitas bowl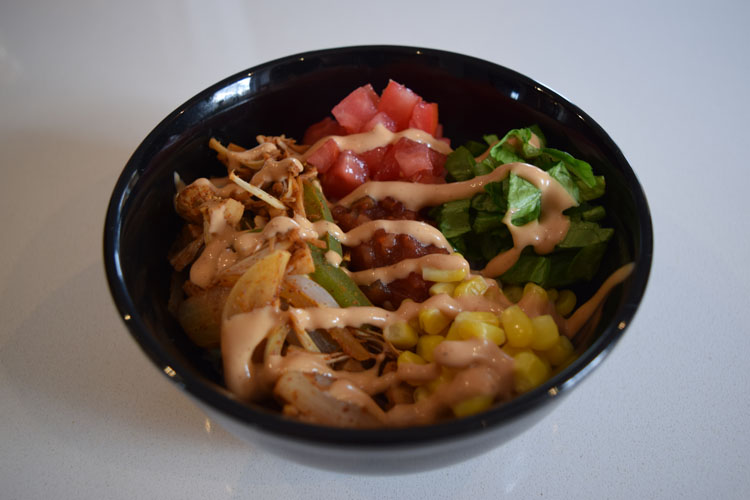 Yield
Number of servings: 4
Serving size: 1 bowl (1/4 of the recipe)
Ingredients
1 cup (250 ml) dried Loprofin rice (or 3 cups cooked)
1 can of jackfruit (green in brine)
1 red pepper, in julienne
1 onion, in julienne
1 Tbsp (15 ml) canola oil
2 Tbsp (30 ml) taco seasonings
¼ cup (60 ml) water
½ cup (125 ml) corn
1 cup (250 ml) iceberg lettuce, chopped
½ cup (125 ml)) tomato, diced
¼ cup (60 ml) Salsa
Cilantro
BBQ ranch salad dressing to top the bowl, if desired
Preparation
Cook the rice according to the directions on the package. Set aside.
Drain the jackfruit, soak in cold water for about 10 minutes. Drain the water.
With your hands, shred the jackfruit (to make it look like shredded meat).
Make julienne with pepper and onion.
Heat the oil in a skillet. Sauté pepper and onion. When they are tender, add the jackfruit.
Add the taco spices and water and mix well. Boil until the water has evaporated.
Remove from heat.
In a bowl, place about 3/4 cup of rice.
Garnish with ¼ taco mixture. Add ¼ corn, lettuce, tomato, salsa and cilantro.
Top with a dash of bbq ranch dressing (optional… but delicious!)
Nutritional facts
Energy

178 kcal

Protein

2.6 g

PHE

101 mg

TYR

57 mg

LEU

149 mg

VAL

105 mg

ILE

77 mg

MET

32 mg

LYS

100 mg
Energy

712 kcal

Protein

10.2 g

PHE

404 mg

TYR

227 mg

LEU

595 mg

VAL

421 mg

ILE

307 mg

MET

126 mg

LYS

402 mg
© Genevieve Lafrance 2022