Categories
Sweet and sour sauté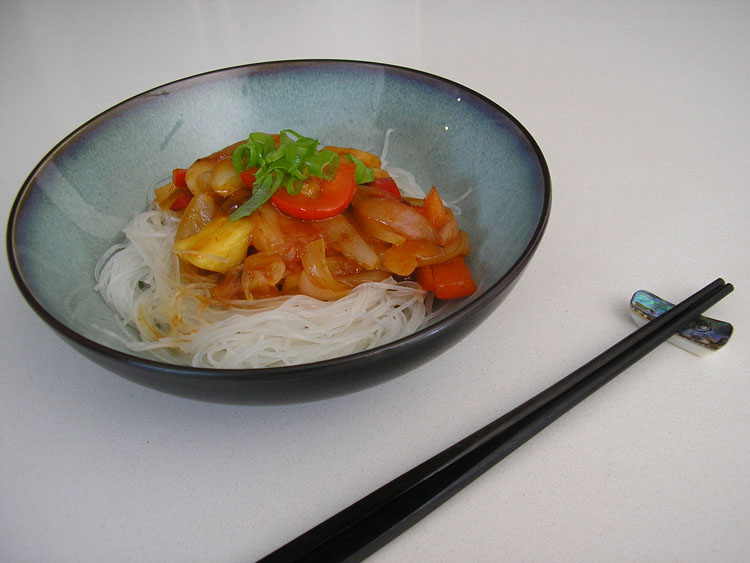 Yield
Number of servings: 6
Serving size: 1/3 cup (75 ml)
Ingredients
Sauce
½ cup (125 ml) water
½ cup (125 ml) chili sauce (Heinz type)
¼ cup (60 ml) rice vinegar
3 Tbsp (45 ml) brown sugar
1 Tbsp (15 ml) soy sauce
2 tsp (10ml) cornstarch
Salt
Sauté
6X50g mung bean noodles
1 c. table (15 ml) peanut oil canola ou
50 g onion
200 g red pepper (about 1 ½ pepper)
1 ½ cups (375 mL) fresh pineapple into pieces
¾ cup (175 mL) water chestnuts (1 box of 227 ml)
1 chopped green onion
Preparation
In a large pot of boiling water, place the noodles and cook for 2 minutes. Remove from heat and let stand in water to finish cooking. Check often and when cooking is adequate, drain the noodles and set aside.
In a bowl, mix all the ingredients for the sauce together. Book.
In a wok not, heat the oil. Add onions, peppers and pineapple. Make Sauter pendant few minutes. Add water chestnuts pour warm.
Add sauce, stir until it thickens slightly. Add chopped green onion.
Serve on mung bean noodles.
Nutritional facts
Energy

277 kcal

Protein

1.6 g

PHE

63 mg

TYR

33 mg

LEU

79 mg

VAL

63 mg

ILE

54 mg

MET

21 mg

LYS

70 mg
Energy

1662 kcal

Protein

9.7 g

PHE

380 mg

TYR

200 mg

LEU

473 mg

VAL

379 mg

ILE

323 mg

MET

127 mg

LYS

419 mg
© Genevieve Lafrance 2023