Categories
''Ricotta'' Lasagna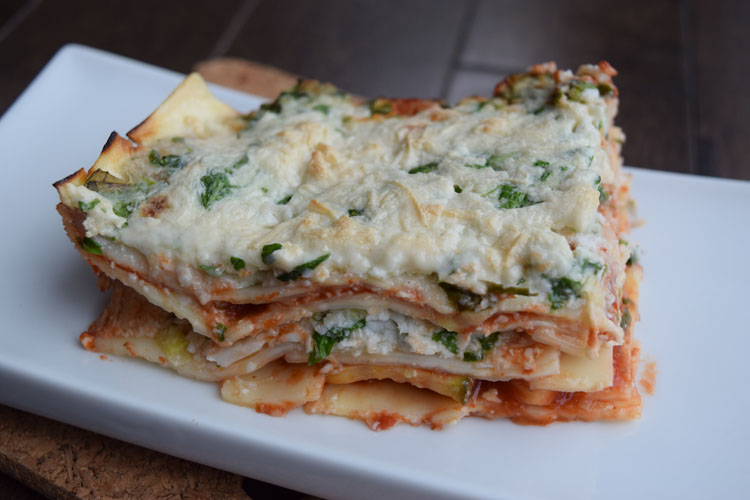 Yield
Number of servings: 4
Serving size: 1/4 of the recipe
Ingredients
6 Loprofin Lasagna (1124)
1 Ricotta imitation recipe (see miscellaneous section of this website for the recipe)
1 cup (250 ml) fresh chopped spinach
¼ cup (60 ml) fresh chopped parsley
Salt and pepper
¾ cup (175 ml) tomato sauce
Preparation
In a large pot of boiling water, cook pasta according to directions on the box. Drain.
Preheat oven to 375F.
In a bowl, mix together the ricotta, spinach, parsley, salt and pepper. Set aside.
In a baking dish (8 X 6 inches), put 2 Tbsp (30 ml) of tomato sauce. Cover with lasagna. Add half of the ricotta mixture. Cover with pasta. Add half the tomato sauce, cover with pasta. Repeat with remaining ricotta mixture, pasta and remaining tomato sauce.
Cover with low protein grated cheese of your choice.
Cover with foil. Bake for 35-40 minutes. Remove the foil for the last 15 minutes.

Notes
The cheese on top hasn't been calculated in the nutritional value, to allow you the opportunity to add one of your choice.
Don't hesitate to add your favorite grilled vegetables (sweet peppers, zucchini, egplant, etc.) to your lasagna. Don't forget to add the protein content to your calculation…
Ricotta is calculated using So Delicious coffee creamer.
Nutritional facts
Energy

203 kcal

Protein

1.4 g

PHE

50 mg

TYR

29 mg

LEU

69 mg

VAL

48 mg

ILE

39 mg

MET

19 mg

LYS

50 mg
Energy

813 kcal

Protein

5.5 g

PHE

201 mg

TYR

116 mg

LEU

277 mg

VAL

194 mg

ILE

155 mg

MET

76 mg

LYS

199 mg
© Genevieve Lafrance 2023