Categories
Roasted cauliflower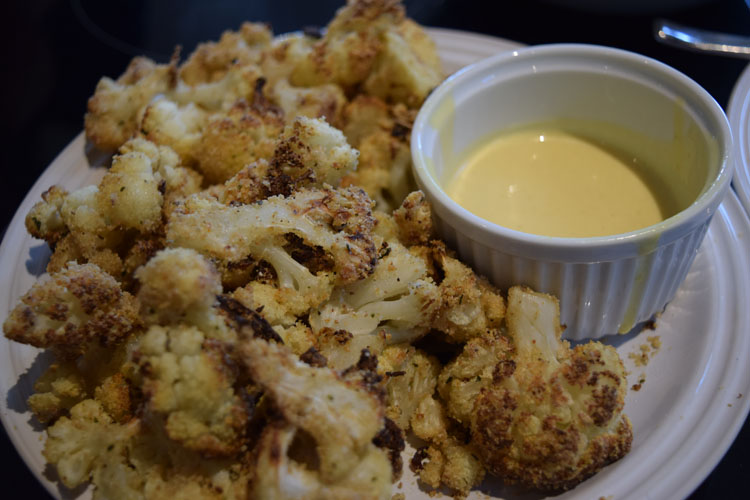 Yield
Number of servings: 4
Serving size: 1/4 of the recipe (about 1 cup cooked -250 ml)
Ingredients
1 small head cauliflower, cut into flowerets (590 g)
3 Tbs (45 ml) canola oil
½ cup Cambrooke Chicken Patty Mix (2947)
Salt and pepper to taste
Preparation
Preheat oven to 425 degrees F.
Line baking sheet with foil and set aside.
Place cauliflower and oil in large zipped baggie. Shake to evenly distribute oil.
Add Chicken Patty Mix, salt, and pepper, then shake again to evenly distribute the mix.
Bake in preheated oven 35-40 minutes, until cauliflower is golden brown.
Mustard and honey dip
Yield: ¾ cup (175 ml)
Ingredients
½ cup (125 ml) mayonnaise
2 Tbsp (30 ml) yellow mustard
1 Tbsp (15 ml) dijon mustard
2 Tbsp (30 ml) honey
2 tsp (10 ml) lemon juice
Preparation
Whisk all the ingredients together. Serve with the roasted cauliflower.
Nutritional value - per Tbsp (15 ml)
Energy 38 kcal, Protein 0.2 g, PHE 10 mg, TYR 8 mg, LEU 17 mg.
Nutritional facts
Energy

167 kcal

Protein

3 g

PHE

102 mg

TYR

78 mg

LEU

164 mg

VAL

190 mg

ILE

109 mg

MET

42 mg

LYS

320 mg
Energy

668 kcal

Protein

12 g

PHE

406 mg

TYR

310 mg

LEU

657 mg

VAL

760 mg

ILE

436 mg

MET

168 mg

LYS

1280 mg
© Genevieve Lafrance 2022